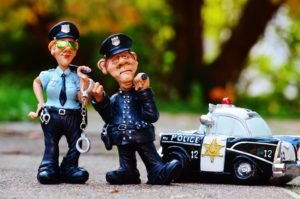 Working for the police is an incredibly important and rewarding job but being a police officer isn't for everybody. There are a lot of dangers involved and some people just aren't equipped to deal with that. It can also be quite emotionally straining because you'll be dealing with a lot of difficult situations. Being able to switch off at the end of the day and leave your work behind is an important quality in a police officer and if you can't do that, you probably won't do well in the job. But that doesn't mean you can't work for the police department and give something back to your local community. There are all sorts of other jobs that you could do for the police force that you might be better suited to.
Criminologist
After the police officers have arrested somebody, it's time to question them and work out whether they're guilty or not. In some cases, there might be a spate of crimes committed but no suspect. In order for the police to catch them, they need to learn to think like a criminal and that's not something that everybody can do. As a criminologist, it'll be your job to profile suspects and work out who the police should be looking for. You'll still play a big role in stopping crimes but you don't have to do the dangerous hands on work that a police officer does. Before you can start looking for jobs as a criminologist, you'll need a bs psychology degree. You can go to college to get one but if you're considering a late career change, you can do one online in your own time.
Civilian Investigators
If you've got good analytical skills and you think you'll be perfect at solving crimes but you don't want to be on the front line, you should consider trying to find a job as a civilian investigator. They're the people that work in the office investigating the case while the officers bring in the suspects. Without the experience of a police officer, you won't be able to investigate high level crimes but you can help out with low level offences like burglaries or financial crimes. There aren't any specific qualifications that you need but if you've got a background in some kind of investigative or analytical work, you'll stand a good chance of landing a job.
Community Outreach Officers
There are two sides to being a police officer; getting into dangerous situations and taking down criminals, and dealing with the fallout from that. Community outreach officers deal with the second half of the job most of the time. Offering support to victims and dealing with small disputes between neighbours etc. It's also a very flexible job and you can often choose your own hours. If you're looking for the satisfaction that comes with helping people but you don't want the danger of being a full-time police officer, community outreach is perfect for you.
Working for the police department isn't all about danger, there are plenty of ways that you can help the local community by putting other skills to use.