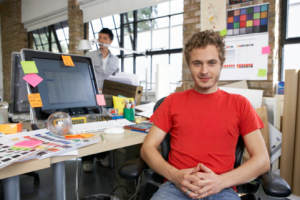 Finding a rewarding job that utilizes both creativity and technical skills can be a challenge as many companies place more emphasis on one or the other. Fortunately, if you're the creative type who also prefers to showcase a hands-on approach to productivity, then there are some jobs designed just for you. The following outlines five jobs that value creativity along with technical skills.
Magazine Layout Editor
Magazine journalism differs drastically from other types of journalism in that magazines are geared towards being equal parts informative and aesthetically pleasing. If you have a knack for layout, then you might consider a career as the editor in charge of layout at a major magazine.
Photographer
With the plethora of editing software and professional-grade equipment on the market, it seems like many people are taking up photography as a hobby. Turn your love of style and technical ability into a lucrative career by becoming a professional photographer. You'll enjoy flexibility while developing your natural skills.
Designer for Print Media
The world of digital printing offers exciting opportunities for those with a keen eye for design and details. Employers like Smartpress.com value people who can develop their technical abilities while producing quality print images for their clients. If you love customization and working on a variety of projects, then this is a great career option.
Video Game Developer
If you love video games or appreciate their use in society, then you may consider a career in game design. This highly technical field also demands creativity, and as someone with ample amounts of both, you would do well in this field. Very few fields offer as many exciting and rewarding opportunities as video game design.
Social Media Director
The marketing and advertising world is full of people trying to sell products or polish brands, and believe it or not, your creativity and technical skills can be put to good use in this industry. As a social media director, your job will be to brand a company's social media presence, which requires thinking outside the box and using advanced computer skills.
Each of these jobs demands creativity, critical thinking and excellent organization skills. On top of these traits, you also need to commit to honing your technical abilities while staying on top of new technology. If you're looking for a creative job that requires meticulous skill and an eye for design, then these are the jobs for you.