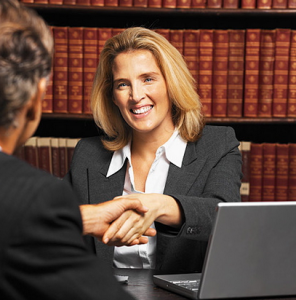 There are few careers as tough to attain but as respected and financially rewarding as that of the attorney. It takes years of schooling to become a lawyer, and a slow, challenging climb up the ladder. Students decide to become lawyers for any number of reasons. Some people have a deep respect for the history of the United States, and want to defend the Constitution and the law that our forefathers fought for. Others hate seeing the poor and unfortunate abused by those in power, and know how to use the system to protect people. The commercial law attorney is passionate about the world of business, and how it impacts all other areas of international society. He may work within a corporation, managing their contracts, organizing their hiring department, helping in the acquisition of resources or other companies and structuring a public launch. He could also work within a private firm, handling any litigation between a private citizen and a corporation. It's a stressful, highly visible career that will see you involved in the world of law at the largest scale. Here is a quick look at how to become a commercial law attorney.
This journey starts as it does for all lawyers, by earning a bachelor's degree at a highly-respected, four-year university. What's great about pursuing law is that you can study any subject you like during your undergraduate education, and as long as you show excellent results you'll be fine. But for commercial law you might want to focus on economics, history, government or public speaking. Business classes are useful as well, so you have a more complete understanding of the issues that face corporations within each industry.
In your final year of college you'll have to take the LSAT, or Law School Admissions Test. Performing well on the LSAT is a prerequisite for all law schools, and there's really no way around it. This is widely regarded as the most difficult graduate exam there is. Not only are you tested on your current understanding, but the LSAT also judges your analytical and critical thinking skills, to determine what kind of lawyer you could eventually become. Go through a study course and work hard to do well if you want to get into a quality law program.
With your LSAT scores in hand it's time to apply to law school. There are literally hundreds of schools to choose from. You'll first narrow it down by removing the schools that don't have a commercial law program. Be proactive and research the corporations or law firms that you would like to work for after you graduate. Where do the majority of their staff come from? Hedge your bets by attending the absolute best program you can, and ideally one that sends graduates on to prominent positions within commercial law.
While at school it's time to get down to the business of learning commercial law. Get your prerequisites out of of the way and then zero in on classes that cover the needs of a commercial attorney. You'll have to learn about intellectual property laws, and how a company's ideas and products can be protected. Your knowledge of every aspect of the law will be tested, and if you hope to work inside a corporation you should know that you must excel at absolutely everything.
After you graduate it's time to take the bar exam. You will have to pass the exam for every state you plan on practicing within. Don't forget that a commercial attorney's work will often cross state lines. And if the other side has hired top Gullands solicitors you might even need to be versed in international law. You'll study for at least a few months before successfully passing the bar, so get a nice head start if you can. And once you are licensed you can then begin searching for your first position as a commercial attorney.