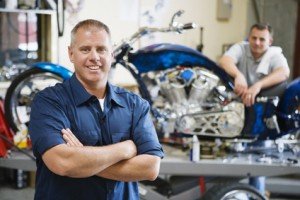 Ingrained public perceptions that auto mechanics are generally dirty and greasy, used car salesmen are of dubious character and anybody involved with motorcycles is a "Hell's Angels"-type criminal are finally changing. Many people are now aware that new and used car and motorcycle salespeople, sales managers and service technicians earn well over $50,000 a year, according to the Bureau of Labor Statistics, pay their taxes, and put on clean underwear every day. These days, there are plenty of career choices in the automotive industry that also carry a sense of pride.
Motorcycle/Auto Jobs: Descriptions, Requirements, Training and Salaries
The following are some facts regarding the more popular and lucrative positions available. These jobs are the ones you can actually expect to find in your home town. If you're shooting for unique careers such as a Formula 1 Race Car Driver, CEO of Harley-Davidson or a test driver for Bugatti, this list may not be of help. However, for everyone else, take a glance:
Managers: General, Sales, Finance (F&I), Service and Parts Managers. Duties: Maintain sales goals, train & motivate salespeople, track department P&L, deal with customers and interact with other dealership managers.
Technicians: Level 1 through 3 Line Mechanic, Apprentices and Assemblers/Installers. Job entails routine maintenance, diagnosis and repair of malfunctions, engine & transmission overhaul, electrical/electronic diagnosis & repair, tire replacement.
Salespeople: New & Used Car and Motorcycle Sales, Parts & Accessories Sales. Responsibilities include dealing face to face with customers, managers and technicians, stock & display merchandise indoor & outdoor, work off-site displays & sales operations.
Finance & Insurance (F&I) Reps: Business Manager, Finance Consultant, Credit Manager, Administration Assistants. Job details are to interact directly with car/bike sales customers, process credit apps and obtain loan approval; reps write up paperwork on all deals, sell add-on financial products like Credit Life & Disability, and Extended Warranties.
Requirements, Training and Salaries
Managers: Minimum high school or better, college preferred, ages 25+, 5+ years related experience. Management training is available through places such as The Automotive Management Institute (AMI). Salaries range from $23K to $100K+, depending on experience and job performance.
Technicians: Minimum High School or better (except apprentices, assemblers and installers), Ages 16+, 1 year related experience. This could be you working on cars & bikes for family & friends, and ordering shop manuals and parts from discount internet stores like Bikebandit.com . Technicians will get a discounted price on repair costs and gain valuable experience to build your resume. In addition, there are many good technical schools where you can gain valuable credentials and a decent education. One of the best schools for car and motorcycle technicians is Universal Technical Institute. Depending on experience, skill level and job performance, salaries range from $22,000 per year to more than $60,000 annually
Salespeople: Minimum high school, college preferred, ages 21+, 3-5+ years related experience. There are a plethora of resources to get on top of your sales game. You can taking car sales training courses at sites like AutoSalesTraining.com . Since salespeople are usually paid on a commission basis, salaries are affected directly by performance. Annual Income runs from $23,000 to $100,000+. Average mean income is $54,000.
Finance & Insurance Reps: Minimum high school, at least 2 years college preferred. Ages 21+, 1-2 years related experience. To be properly prepared, F&I reps should have a couple of years in as a car or motorcycle salesperson. There are schools, such as CollegeofAutomotive.com, that specialize in Finance Rep and Manager training.