While the Great Resignation creates many opportunities for career changes and snagging a better position in the same field, competition is fierce. It is estimated that HR managers receive more than 200 applications for average corporate positions, so you need to make sure your resume stands out from the crowd. Enter Resume Software.
Resume apps helps you create a resume or CV that is visually appealing that will help keep your info from getting lost in the sea of applications. In addition to looking good, resume software can also help guide you on the information you should include to help you get your foot in the door. Many of these sites are free to use, with paid upgrades for special features, fonts, multiple versions, etc. We've scoured the internet and have found the best resume software to build your resume so that you can get started right away.
Resume.io
Resume.io is one of the most popular resume writing apps for a reason – actually several reasons. It's very intuitive to use, affordable, and creates amazing looking resumes. Their resume maker includes advanced creation tools to tell a professional story that engages recruiters, hiring managers and even CEOs. Resume.io really does make resume writing effortless. With pre-generated text, visual designs and more, all you have to do is fill in your details. Start by selecting a field-tested resume template that follows the exact 'resume rules' employers look for. Try now for free.
Canva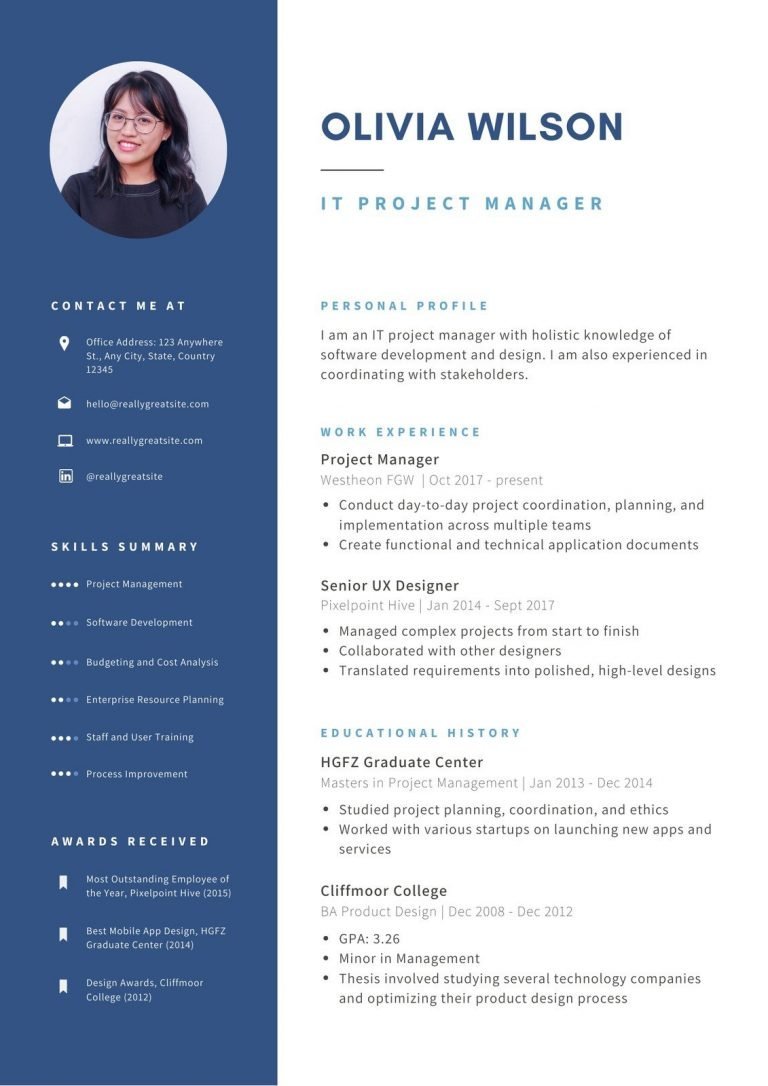 Canva is one of the best apps available to build your resume, offering hundreds of different designs and styles from the more traditional to the creative. As long as you can copy + paste, you can use Canva. To start, you simply select from one of the many resume templates (conveniently organized by industry). Then simply plug in your info. You'll also get the option to download your document in multiple formats to attach it to your applications easily, and so applicant tracking systems used by recruiters can view it.
Zety
If you're looking for a more traditional-style resume for a corporate position, Zety is an excellent option. The software offers more than 18 different templates to help you organize your information. While many of the options available through other software incorporate color and graphics, Zety's templates focus on clean typography to help you stand out. There are also templates to help you coordinate your resume and cover letter. Getting the info into the template is easy too. All you have to do is fill in the various forms, and it completes the resume for you! They even offer a resume check that will give you suggestions to improve your resume. Just keep in mind that you'll only have the option to download in DOC or PDF.
CakeResume
CakeResume is another resume builder software program offering customizable resume templates that help you shine. The unique thing about CakeResume is that all of its templates are specifically designed to be read by applicant tracking systems. Likewise, they are responsive designs, meaning your resume can be easily viewed on any device without losing any formatting and still being big enough to read. With the free version, you'll get 1 version, a free PDF download, and a shareable link. However, note that you will have CakeResume branding on the template. To remove this, you'll have to upgrade to the paid version, which will remove the branding, give you additional resume versions, and performance tracking.
Visme
Free resume templates are also available with Visme. Resume templates are organized by industry, helping you quickly find a design suited to your industry. Once you create a free account, you can use the template to input your work history and personal information. While you can use the template as is, Visme also makes it easy to add additional elements such as stats and call-to-action blocks. It's also to change colors on the template by choosing from several different color themes, or you can create your own. However, you'll only be able to download it as a JPG. To save it as a PDF, you'll need to upgrade to the paid version. But, you'll be able to continue using Visme for other projects as well, as it also has templates for social media, presentations, infographics, and more.
Resume Genius
If you need more help creating what's on your resume, not just making it look great, look to Resume Genius. Like other software, Resume Genius offers many HR-approved templates to choose from, ranging from traditional to modern. However, one thing that sets the software apart is that it uses AI to scan job postings to optimize your resume, increasing the likelihood of it getting onto the desk of hiring managers. Another unique feature is that you can choose job description bullet points that specifically relate to the type of job you are seeking. Once your resume is completed, you can choose a matching template to create your cover letter. Note that with the free version of Resume Genius, you'll only be able to create your resume and download it in .txt format. You'll need to sign up for the paid version to get the software's full features, but there is a free 14-day trial to try it out.
Choosing Resume Software
When you set out to find the job of your dreams the most important thing that you can have in your bag of tricks is of course going to be your resume, but if your resume needs some fine tuning and you are not so confident in your writing abilities then you may want to consider a resume builder to help you craft a masterpiece. Resume software is designed to help anyone be able to produce a wonderful looking resume which will aid you in your quest for employment.
As with almost any other type of software that is on the market today, there are a lot of different resume programs to choose from. So how do you weed through the thousands of possibilities and decide which program is right for you? Here are some basics to look for when you are choosing a resume writing app:
•    Templates: Most resume software comes fully packed with a wide variety of resume template which you can use as your base structure to formulate your actual resume. The key here is finding resume software that has what you are looking for. While some resume software will have a few templates to choose from and others have over 10,000 to look through, you still need to be sure that there is a template to accommodate what you need and that will fit the sector, such as business or Government, in which you are attempting to gain entry into.
•    Customer Support: This is often overlooked, but it is a very crucial component to have. Some resume apps will come with limited or no customer support. While you may be just fine if you follow the guides that are given to you, what happens if you get stuck along the way? Choosing resume software that comes with 24/7 customer support is a great way to give yourself an 'insurance policy' on success.
•    Guarantee: Choosing a resume app that comes with a guarantee is another way to give yourself an 'insurance policy' of sorts. If you use a writing tool that comes with a money back guarantee then you can rest easy knowing that your money will be refunded should the program not live up to your expectations.
•    Price: Price is last on the list for a reason. While you should consider the price of any resume software while you are making your selection, you should also not put the blinders on and ignore all the other vital components. Only looking at price may have you getting stuck with resume software that will be all but useless. While you don't have to go with the most expensive, you probably don't want to just choose the cheapest either.
In a tough job market, your resume has to be what sets you apart from all the rest. By taking your time and doing a little homework during your selection process for resume software, your perfect resume and the perfect job that will follow may be but a stone's throw away.